Every month we have a new local artist share their work with us in the cafe at our St Werburghs store.  This month we have The Knitted Pea, exhibiting until 13th October.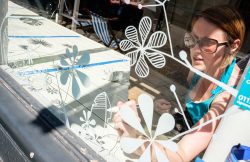 We're also hosting her exhibition as part of the St Werburghs Arts Trail during 29th and 30th September.  Find all the artists exhibiting in the trail here: https://www.stwerburghsarts.org.uk/
The Knitted Pea
Bev Cavender has been passionate about art and nature since she was very young. A self-taught artist, with a work background in environmental policy, she started her design business in 2014 to pursue a more artistic championing of all things green!
Based at her home studio in Horfield, she draws inspiration from time spent adventuring in nature with her young family, and from the otherworldliness & geometr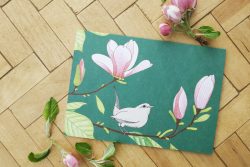 y often found in nature. Her work all starts with freehand pen drawings, which she then adds colour to – either using pencil, pen, acrylic paint or digitally.
She designed a sculpture called 'Draco' for this summers Gromit Unleashed trail around the city, which will be auctioned on 3rd October, helping to raise vital funds for the Bristol Children's Hospital.
Bev also undertakes larger scale pieces and murals on commission. If you 'd like to know more, please contact her.
All Knitted Pea items are ethically produced within the UK (mostly Bristol!), and use recycled / recyclable materials wherever possible.
facebook     /knitted.pea
twitter    @theknittedpea
instagram    @theknittedpea
If you'd like to exhibit in our cafe, please get in touch.